Just weeks after the 'new' TV Doctor Who chose Belfast for the first stop of the BBC's pre-broadcast introductory tour, the sci-fi star is back again.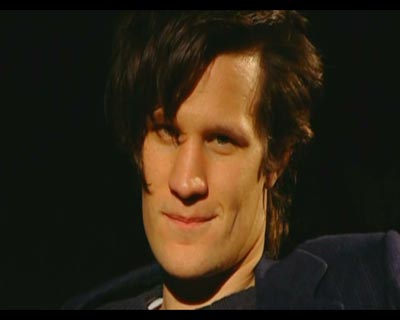 Matt Smith has been in Bangor, Co Down filming his new drama, Christopher and His Kind.
Having won the wholehearted support of even die-hard fans of the previous Dr Who, David Tennant, the 27-year-old is now playing a new role, that of Christopher Isherwood, a celebrated writer, in a 90-minute film based on his 1976 memoirs.
Filming started in suburban Bangor West - on the Co Down coast - and is expected to continue in and around Belfast until June 8.
The new BBC2 drama charts the formative years of Isherwood, who left behind repressive English society and his suffocating mother, played by Lindsay Duncan, for the decadent but politically unstable world of 1930s Berlin.
He was the inspiration behind the smash-hit Broadway musical Cabaret and his 1964 semi-autobiographical book, which chronicles the experiences of a gay man living in early 1960s California, inspired fashion designer Tom Ford's recent directorial debut, A Single Man, starring Colin Firth.
Filming in Belfast has already caused controversy as scenes of Berlin have been shot inside the courtyard of Belfast City Hall where the Nazi swastika was flown.
The drama is being made with the assistance of Northern Ireland Screen, supported by Invest NI and part funded by the European Regional Development Fund.
It also generated opportunities for up-and-coming stars, as NI Screen were helping the hunt for supporting artists or 'extras' earlier this month for the filming.
They wanted women aged 16 - 39 with 'bob' haircuts to add atmosphere and background to the drama, which is now expected to screen on BBC2 some time in the autumn.
The UK Dr Who tour - in March - was to introduce the new Doctor to fans of the series, and 'crossed time zones and space' to materialise in five different locations spanning the length and breadth of the British Isles, with first Belfast, then Inverness, Sunderland, Salford and Northampton included.
The tour also introduced his new companion, Karen Gillan, to fans of the BBC One show and offered them a unique chance to meet the stars.
Each location will also hosted a regional premiere of episode one, The Eleventh Hour, for local children, working alongside BBC Outreach to enable kids to get a first look at the new Doctor in action.
Meanwhile, alongside his Dr Who commitments, Matt Smith is also due to star in Womb, with Bond girl Eva Green, later in the year.