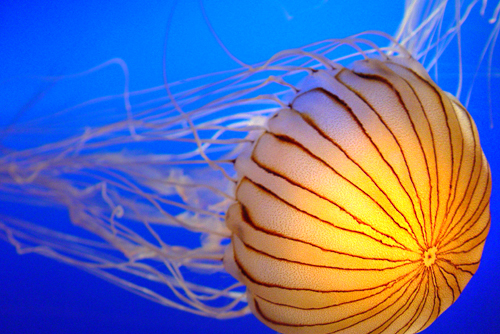 Dozens of stinging jellyfish were washed up yesterday on a popular beach where Doctor Who was filmed.
Tourists were warned not to touch the sinister-looking moon jellyfish.
James Palmer, 38, who spotted them on Newton Beach, near Porthcawl, South Wales, said: "They looked so unnatural just washed up - especially because Doctor Who has been filmed around here."
The area featured in Doctor Who as a Norwegian fjord and as the site of the planet of the "Weeping Angels".
A Bridgend council spokesman said: "Moon jellyfish can deliver a mild sting although they are not particularly venomous.
"Jellyfish should never be touched with bare hands. If you need to turn one so it can be identified, use a stick or arm-length rubber gloves.
"Anyone who suffers a severe jellyfish sting should seek medical attention."